ENERMAX Presents Revolutionary Technologies at COMPUTEX 2023, Showcasing a Cross-Generational Leap in Computing
Taoyuan, Taiwan, May 29th 2023 -ENERMAX, an industry-leading force dedicated to designing extreme-performance computer power supplies and cooling solutions, unveils a full lineup of massive performance upgraded PC components including the "PLATIMAX GEMINI", our first power supply that meets both Intel ATX12VO and ATX 3.0 standards, the "Cable Master 20" PC case, and the next-generation "Dual Chamber Xtreme Pump" for CPU coolers. With all the cross-generation products and breakthrough innovations, ENERMAX is ready to demonstrate future-ready computing solutions at COMPUTEX 2023.
PLATIMAX GEMINI, The First Power Supply Series That Meets both Intel ATX 3.0 and ATX12VO Standards
Introducing the world's first power supply series that meets both ATX 3.0 and ATX12VO standards, the PLATIMAX GEMINI. This product complies with Intel's vision for a more eco-friendly computing environment through its highly efficient and energy-saving specifications. PLATIMAX GEMINI is an 80 PLUS platinum certified power supply that surpasses the load efficiency standards of Intel ATX 12VO, effectively reducing standby power consumption. It empowers gamers, system integrators, and OEMs to implement energy conservation, carbon reduction, and sustainable development.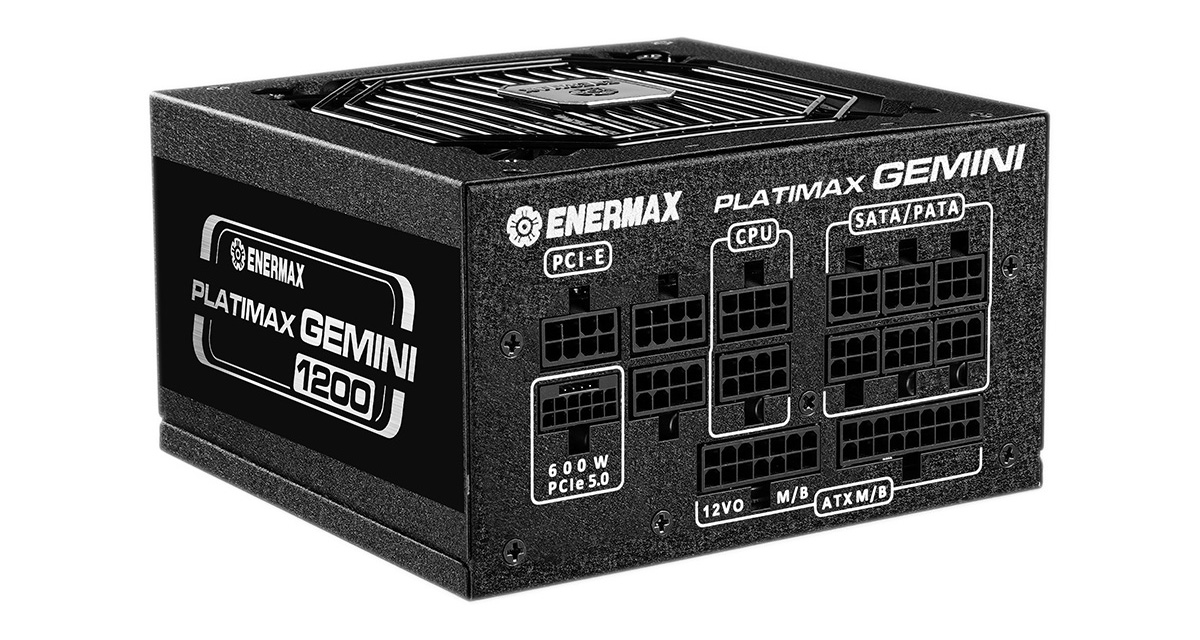 REVOLUTION D.F. X, The First ATX 3.0 Power Supply Series with ENERMAX's Patented Dust-Free Rotation Technology
The REVOLUTION D.F. X is ENERMAX's new ATX 3.0 and PCIe 5.0 ready power supply series with ENERMAX's patented Dust-Free Rotation (D.F.R) technology, which reduces the accumulation of dust around the fan blade for self-cleaning to prevent any future disruption. It also comes with an ARGB side panel with 14 built-in lighting modes, an RGB control button to turn off at night, a 600W native 12VHPWR cable, and an extra dual 8pin to 12VHPWR cable (600W) that allows professionals to build with flexibility in the future.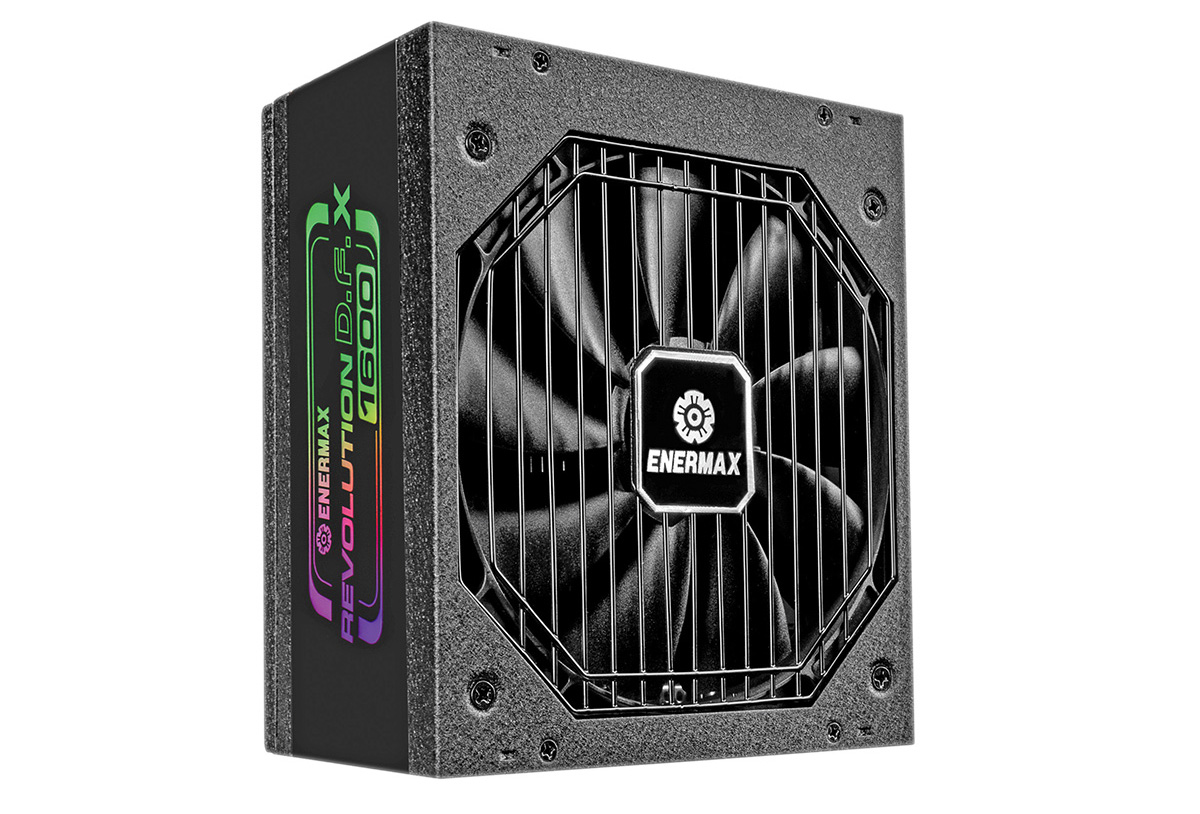 LIQTECH TR4 II, The First AIO Liquid CPU Cooler Verified by Intel for Workstations
LIQTECH TR4 II is the first liquid cooler on the market that is officially verified by Intel as a thermal solution for its Xeon Sapphire Rapids workstations. The CPU mounting kits of LIQTECH TR4 II are designed for Intel® W-3400 and W-2400 series Xeon® processors with socket LGA4677, and AMD Ryzen™ Threadripper™ PRO processors with socket sWRX8 / sTRX4/ TR4, as well as AMD socket SP3 for AMD EPYC™ processors, making it an excellent choice for workstations and high-end desktops (HEDTs).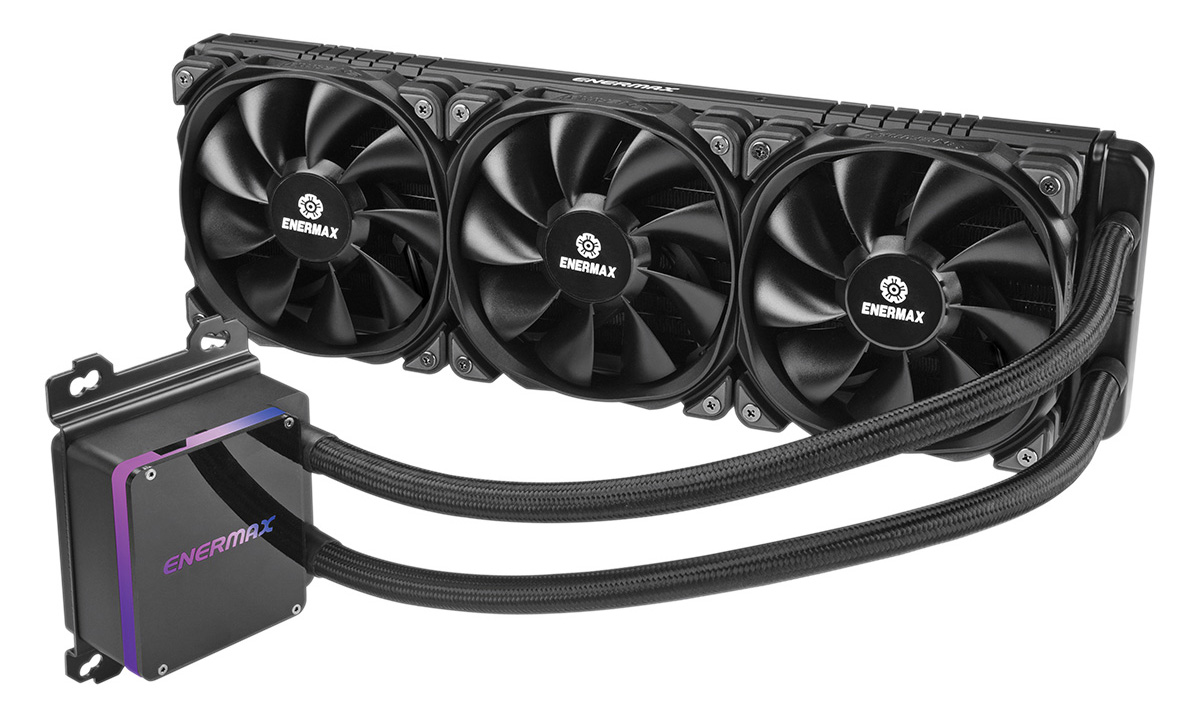 LIQMAXFLO, ENERMAX's First AIO Liquid CPU Cooler with ARGB VRM Fan, Delivering Superior Cooling Efficiency and Quiet Operation
LIQMAXFLO is a CPU liquid cooler featuring ENERMAX's next-generation Dual Chamber Xtreme pump with a massive upgrade. It achieves a 30% increase in flow pressure and a 20% increase in coolant flow rate thanks to the upgraded structure and optimized flow design. With a built-in 60mm ARGB PWM-controlled VRM fan, the LIQMAXFLO can further effectively reduces the temperature of the main components on the motherboard up to 20℃, enhancing the performance of both the CPU and motherboard. It's also equipped with ENERMAX's latest Silent Flow fan with an optimized fan blade design to achieve the perfect balance between cooling performance and quiet operation.

SquA Fusion Fan With A Magnetic Force Design And A Unique Square-Shaped ARGB Frame
SquA Fusion is ENERMAX's first PC case fan with magnetic connection, featuring a unique square-shaped ARGB frame and ARGB hub lighting as well as ENERMAX's patented Dust-free Rotation technology that blows away accumulated dust to prevent any future disruption. The PWM-controlled function also ensures extremely efficient cooling with minimum noise.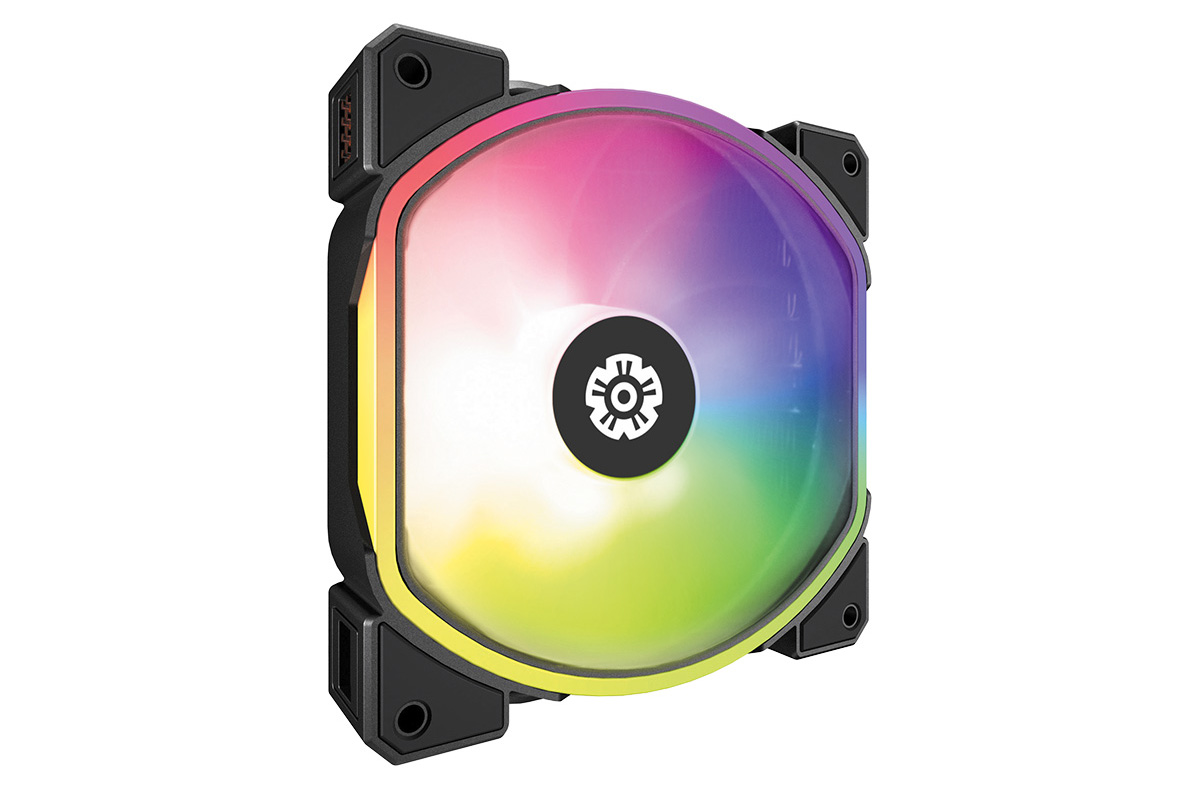 Cable Master 20, An Innovative PC Case that Supports Both Rear-Mounted and Standard Motherboard Installation
ENERMAX's Cable Master 20 is a unique PC case that is compatible with both rear-mounted and standard-mounted motherboards with 30mm space behind the motherboard for next-level cable management. With the rear-mounted motherboards installed, it will dramatically increase the airflow and system cooling, and keep the system neat and clean.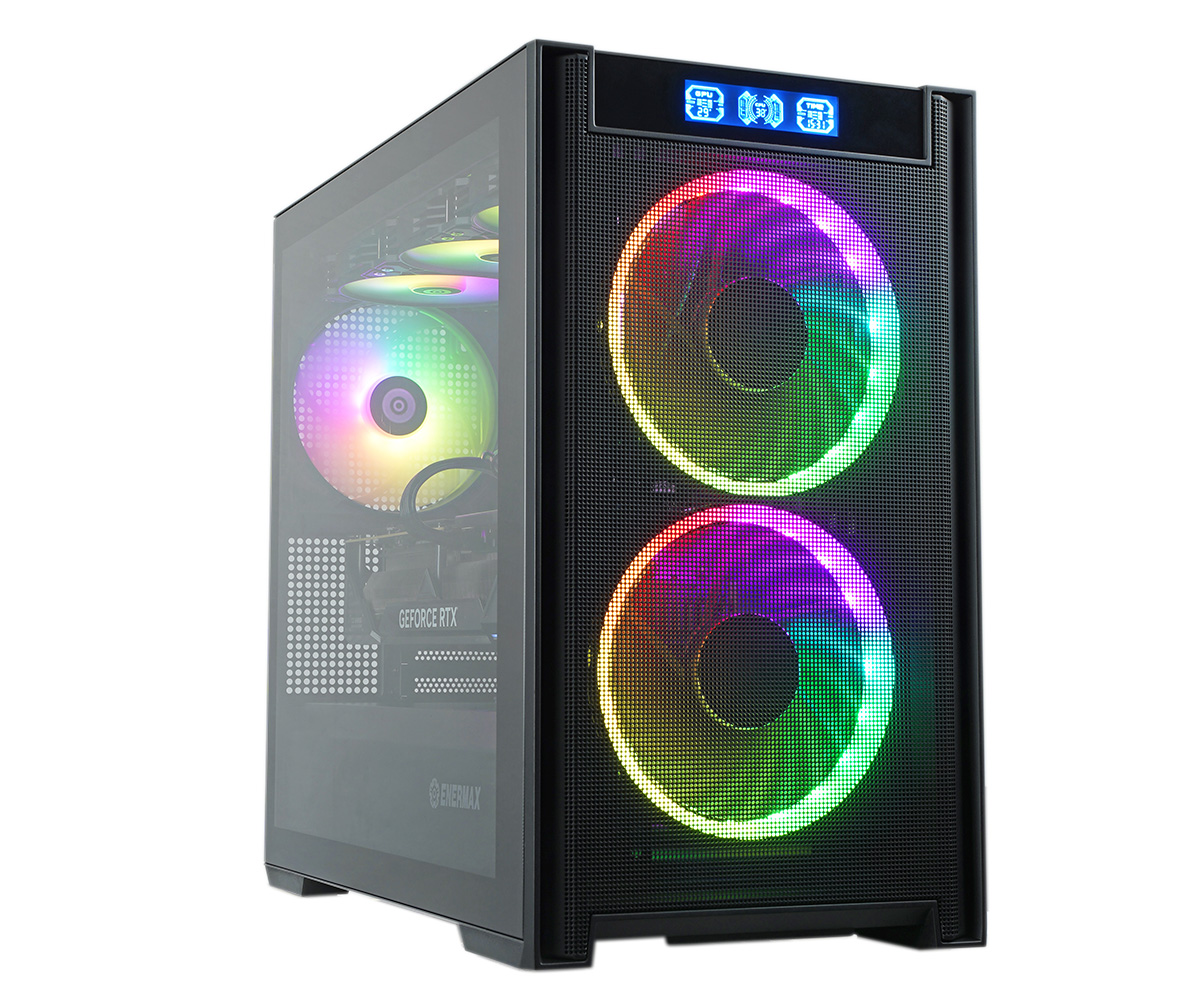 MarbleShell Apex Marble MS32, A Modular-Design Mid-Tower PC Case
MarbleShell - The MarbleShell - Apex Marble (MS32) is ENERMAX's first modular PC case. It features removable top radiator and fan brackets on the power supply shroud, simplifying hardware installation and cable management. An extra adjustable-angle fan bracket assists in cooling high-power graphics cards and enhancing airflow within the case.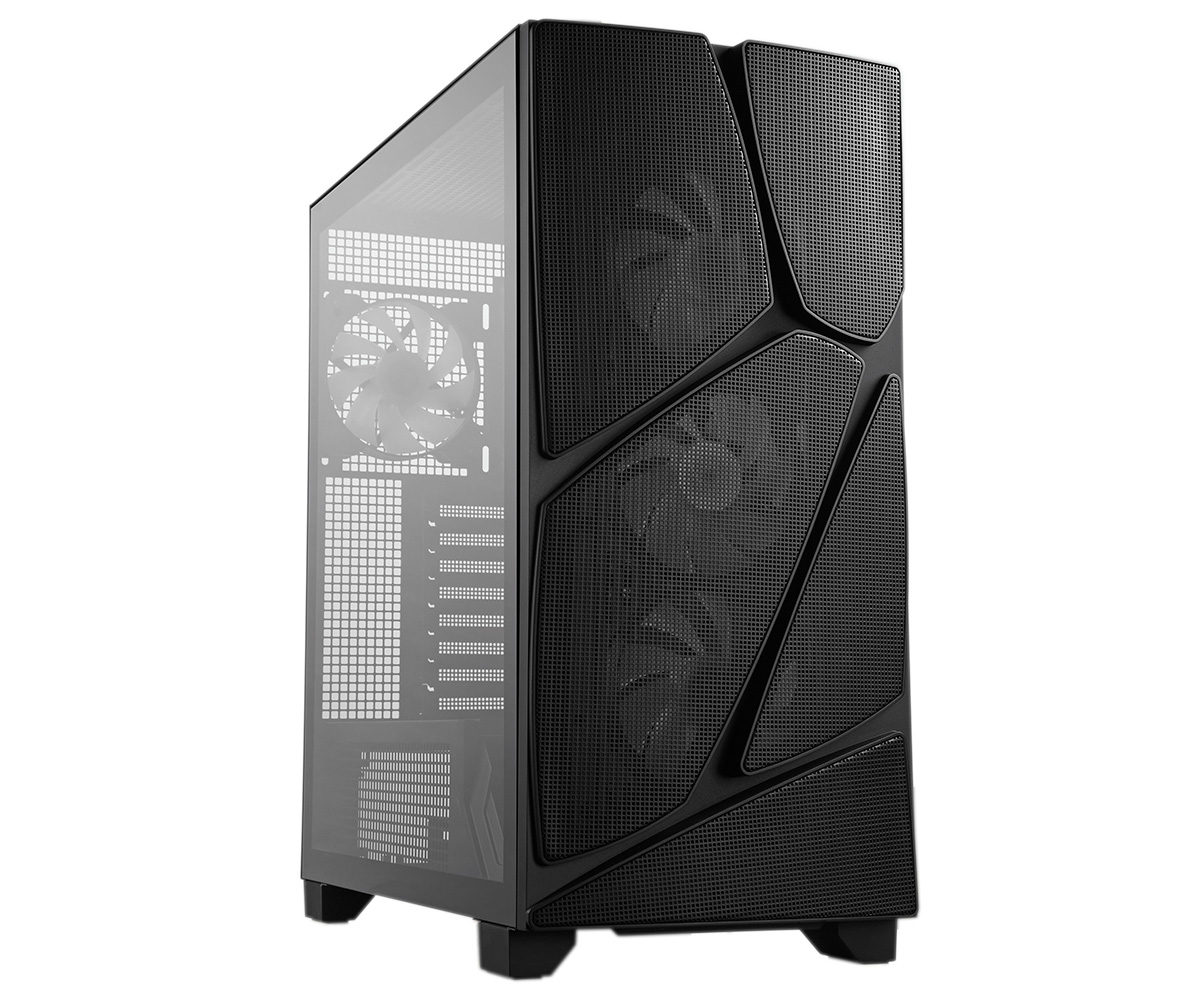 Powered by ENERMAX Beyond Limits
Besides all the new releases above, ENERMAX has over 10 products ready for debut including power supplies, CPU cooler, PC case fans and PC cases. All the details can be found at: https://enermax.com/computex2023
ENERMAX also collaborates with a Taiwanese well-known custom gaming computer studio - DCT, Min-Long Tang, and LOONGTR, as well as a Taiwanese professional modder- LINModified, to showcase state-of-the-art PC mods. With all the exciting innovations and advanced technologies ENERMAX is showing this year at COMPUTEX, ENERMAX is ready to provide another revolutionary computing experience to worldwide customers in the coming year.
Exhibition Date
May 30 to June 2rd, 9:30 to 17:30
Venue
Taipei Nangang Exhibition Center, Hall 1, 1F
Booth No. I0310
About ENERMAX
ENERMAX is a world-renowned PC Power Supply manufacturer and maker of award-winning PC components such as chassis, coolers, fans, and peripherals, with recognition from consumers around the world. Our farsighted R&D capability is our key strength and we stick to our spirit of "Technical Innovation" and "Quality First" to create products that unleash the full potential of the system for every PC enthusiast. For more information please visit us at www.ENERMAX.com
Follow Us on Social Media
Facebook: https://www.facebook.com/OfficialENERMAX
Instagram: https://www.instagram.com/OfficialENERMAX
Twitter: https://twitter.com/OfficialENERMAX
Youtube: https://www.youtube.com/@OfficialENERMAX
Copyright © 2023 ENERMAX Technology Corporation. All rights reserved. Features, pricing, availability, and specifications are subject to change without notice.
Global Contact Information
PR
Chinnie Chiu
chinnie_chiu@enermax.com.tw
Marketing
Sylvia Lee
sylvia_lee@enermax.com.tw
Sales (North America)
sales@enermaxusa.com
Sales (Except North America)
enermax@enermax.com.tw