ENERMAX Announces New Kilowatt REVOLUTION D.F. 2 Power Supply Series with 1050W & 1200W Now Available
Taoyuan, Taiwan, March 20th, 2023 - ENERMAX, an industry-leading force dedicated to designing extreme performance computer power supplies and cooling solutions, announced today its brand new kilowatt 80 Plus Gold certified fully modular power supply, the REVOLUTION D.F. 2 1050W and 1200W models are now available to purchase online. The new members immediately become one of the smaller mainstream kilowatt ATX power supplies in the market with only 140mm in-depth which makes it fit well with most of the PC cases in the market and leaves more room in the system for better airflow and better cable management potential.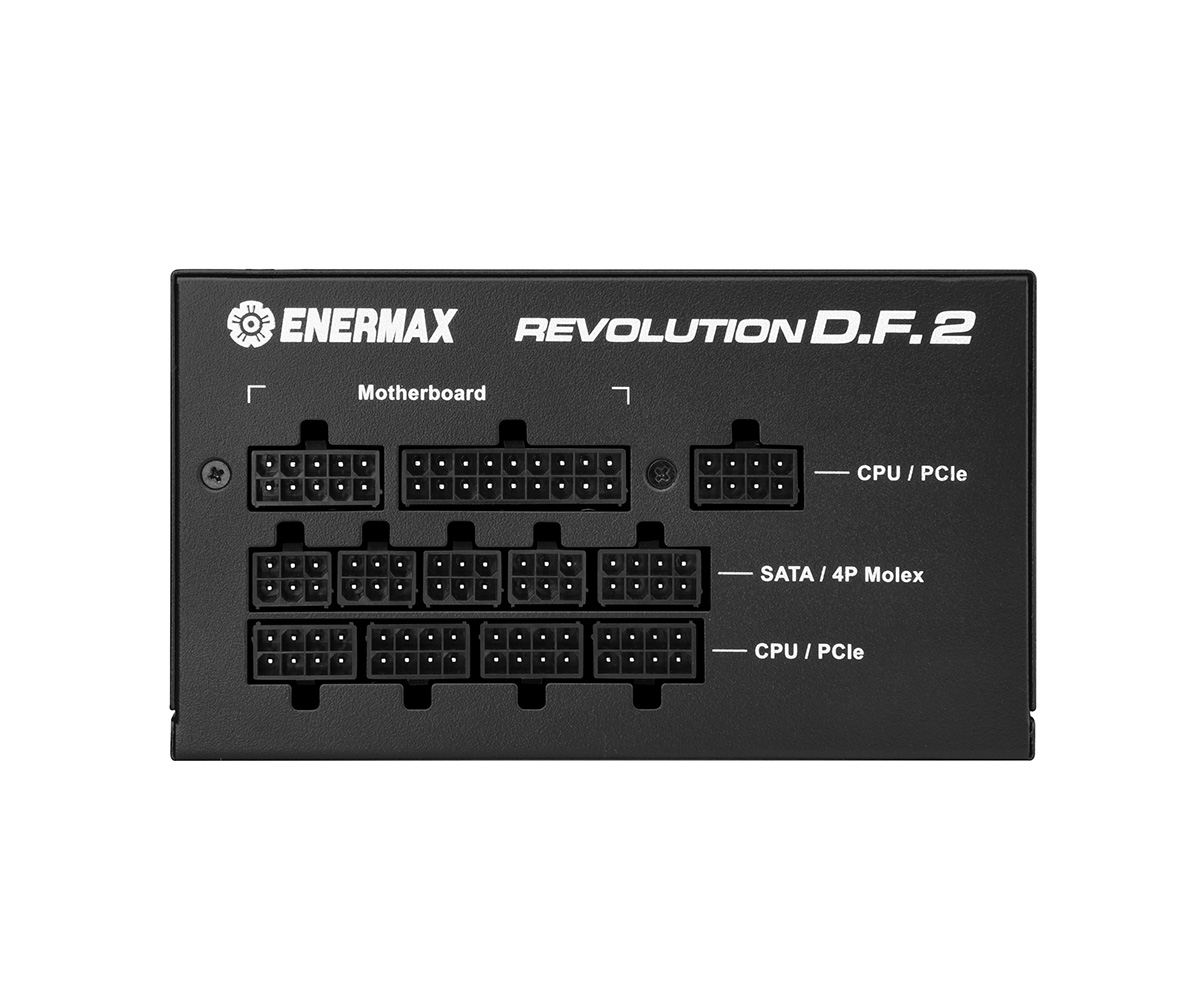 As the processing power of processors and graphic cards has increased, the REVOLUTION D.F. 2 1050W and 1200W models optimize the peak power wattage output to reach up to 200%. The single rail design will also prevent any form of power split in the middle, making overclocking more doable. The 120mm high-performance Fluid Dynamic Bearing fan inside the power supply provides excellent cooling performance with extremely low noise and vibration, and the ENERMAX Semi-Fanless Technology will stop the fan from spinning and become completely off during minimum load.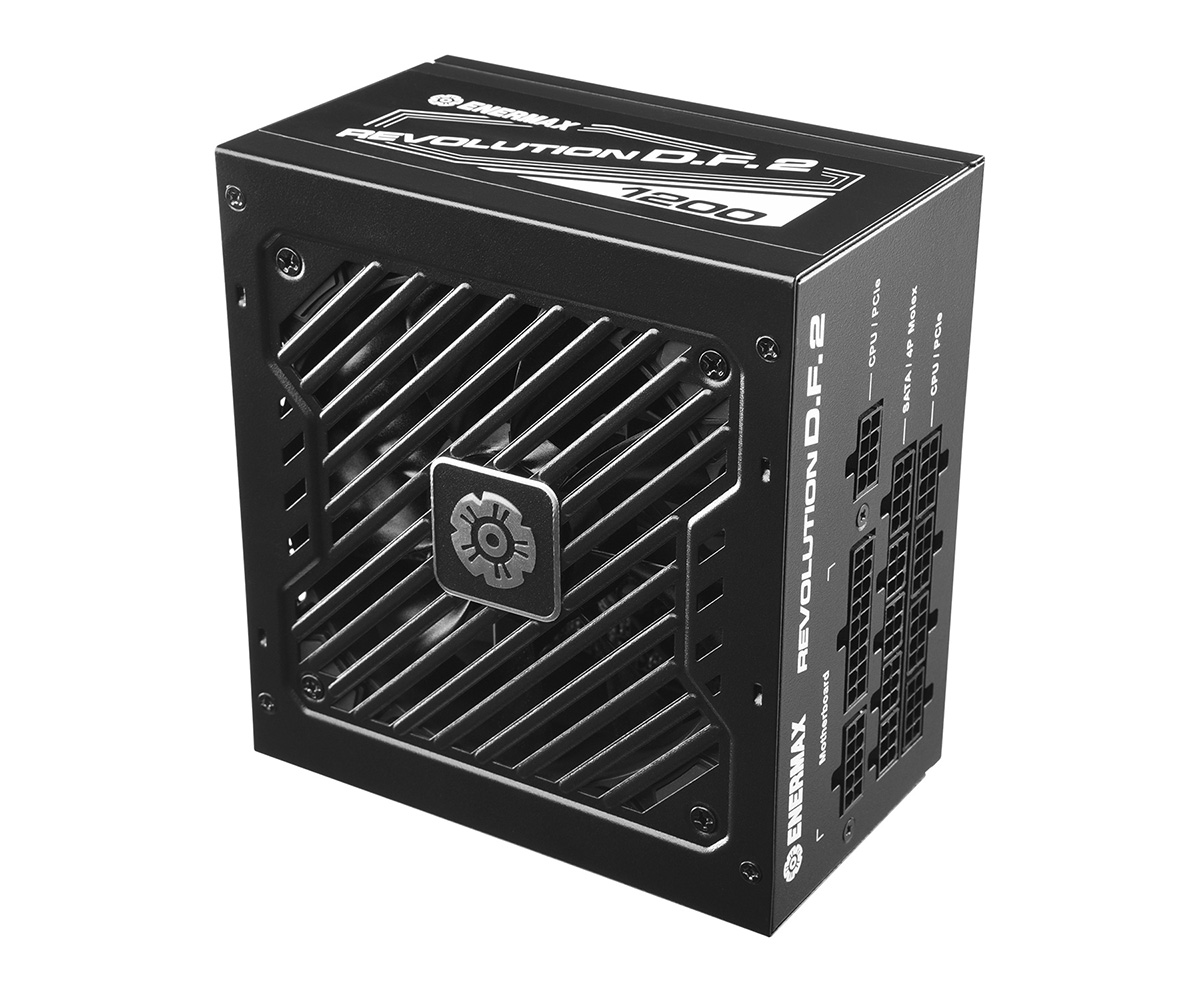 The REVOLUTION D.F. 2 power supply series is built with 100% Japanese electrolytic capacitors with DC-to-DC conversion, and the advanced LLC and Synchronous Rectifier design will ensure reliable performance. Equipped with the ENERMAX Dust Free Rotation technology, the fan will blow away unwanted dust upon powering up to prevent any future disruption and ensure a stable power delivery for years. With the upgraded specifications and rated for up to 92% efficiency, the REVOLUTION D.F. 2 is ready for the latest Intel® Core™ processor or AMD Ryzen™ 7000 series desktop processors and high-end graphics cards.
Full lineup of the REVOLUTION D.F. 2 series including 850W, 1050W and 1200W are available immediately at the ENERMAX USA online store , Newegg and the ENERMAX worldwide authorized retailers and distributors.

Web Pages & Video
Learn more about the ENERMAX REVOLUTION D.F.2 Series, please visit:
https://www.enermax.com/en/products/revolutiondf2-1050
https://www.enermax.com/en/products/revolutiondf2-1200
For a complete list of all ENERMAX power supplies, please visit:
https://www.enermax.com/en/products/category/power-supply
Video of the ENERMAX REVOLUTION D.F.2 Series can be found at the link below:
https://youtu.be/bZ-xABsL220
About ENERMAX
ENERMAX is a world-renowned PC Power Supply manufacturer and maker of award-winning PC components such as chassis, coolers, fans, and peripherals, with recognition from consumers around the world. Our farsighted R&D capability is our key strength and we stick to our spirit of "Technical Innovation" and "Quality First" to create products that unleash the full potential of the system for every PC enthusiast. For more information please visit us at www.ENERMAX.com
Follow Us on Social Media
Facebook: https://www.facebook.com/OfficialENERMAX
Instagram: https://www.instagram.com/OfficialENERMAX
Twitter: https://twitter.com/OfficialENERMAX
Youtube: https://www.youtube.com/@OfficialENERMAX
Copyright © 2023 ENERMAX Technology Corporation. All rights reserved. Features, pricing, availability, and specifications are subject to change without notice.
Global Contact Information
PR/Review
Chinnie Chiu
chinnie_chiu@enermax.com.tw
Marketing
Sylvia Lee
sylvia_lee@enermax.com.tw
Sales (North America)
sales@enermaxusa.com
Sales (Except North America)
enermax@enermax.com.tw