Features
SERVER ready!
SSI PSDG support for latest Intel® Core™ Extreme/i7/i5/i3, Xeon™ and AMD® Opteron™ and SLI® or CrossFireX™ and downward compatible with EPS12V v2.92, v2.8.
World ready!
100-240VAC in with automatic adjustment and active PFC for global usage.
EMC ready!
Full-scale electromagnetic filtering protects your system against radiation interferences.
HeatGuard
Keeping PSU fan running for 30-60 seconds after shut down to dissipate the remaining system heat and prolonging system lifetime.
SafeGuard
Industry-leading multiple protection circuitry of OCP, OVP, UVP, OPP, OTP, SCP & SIP.
SpeedGuard
Advanced fuzzy logic fan speed control for optimal cooling and minimum noise. (Patented)
100% 105℃ Japanese electrolytic capacitors
Highest components standards for maximum durability and stability.
Ultimate Technology
Clean and efficient layout and classic finish with decent black deco frame, Platimax considers both the aesthetics and technology of the overall design.
Enhanced Heatsink
Unique one-piece shape design ensures uniform heat distribution and increases air flow.
89 PLUS ready!
World's leading modular cable PSU series with 89-94% efficiency @ 20-100% load. Compliant with 80PLUS® PLATINUM efficiency requirement.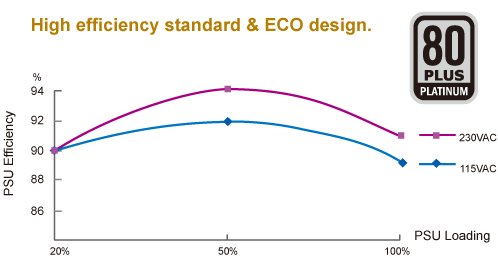 Server System @ 1000W load
Annual KWh*2
Annual KWh wasted
Annual Money wasted*3
Annual CO2 wasted*4
Efficiency*1
AC Draw (W) *2
Platimax 1000W
92%
1467.4
12854.4
-
-
-
Other ~82% 1000W
82%
1646.3
14421.6
1567.2
$235.24 / €344.78
971.7kg
Other ~80% 1000W
80%
1687.5
14782.5
1928.1
$289.41 / €424.18
1195.4kg

*1:Based on 230VAC input power. Figures might vary by system configuration and loading.
*2:Annual KWh is estimated based on 24 hours a day, 365 days a year runtime. Formula: AC Draw(W) x 24(hrs) x 365(days) / 1000
*3:1KWh= $0.1501 (California) / €0.22(Germany)/ Fare might vary by countries and regional providers.
*4:Calculation based on 1KWh= 0.62kg CO2. Figures might vary by countries.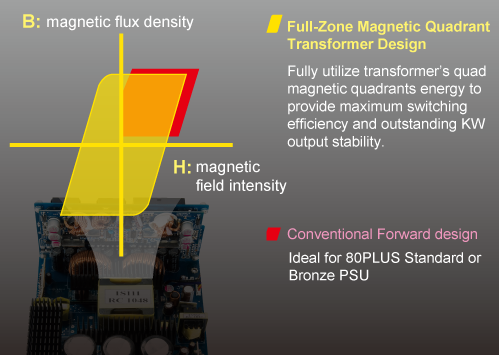 FMQ Design
Fully utilize transformer's quad magnetic quadrants energy to provide maximum switching efficiency and outstanding stability
Copper-Bridge Array

Extreme Density Transformer
Innovative design boosts transformer core utilization rate and reduce overall dimension
Extreme power density performance
50% space saving than conventional design
Excellent heat dissipation
Low air resistance and less air friction noise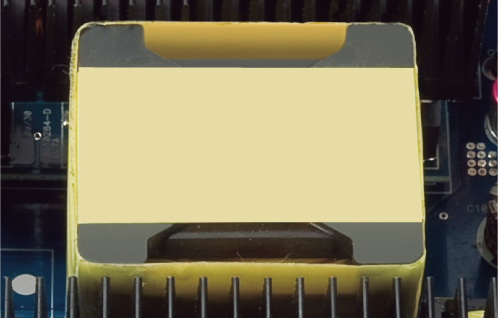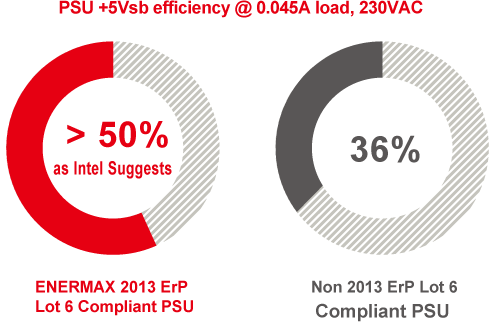 ErP Lot 6 2013 ready!
Advanced +5Vsb circuitry with up to 20% improved efficiency in comparison to generic designs helps your system meet ErP Lot 6 2013 ( AC < 0.5W at standby) requirement.

*With ErP Lot 6 2013 enabled motherboard.
Modular ready!
Full modular cable design for easy customized support for various peripheral settings.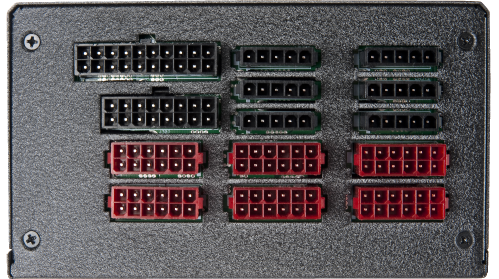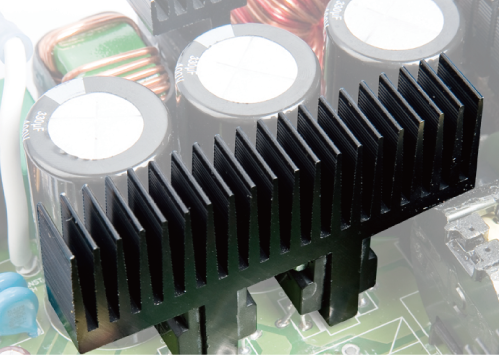 Enhanced Heatsink
Unique one-piece shape design ensures uniform heat distribution and increases air flow